This is my first book review on the blog. I've written a whole bunch of "baby reviews" over on Goodreads, but I thought it was time to finally go for it and start blogging my thoughts on the books I read. If you're reading and you have feedback of how I could do it better, please feel free to comment. I'd love to know!
Book Title: The Dream Thieves (Amazon, Goodreads)

Author: Maggie Stiefvater
Genre: Fantasy/Magic Realism, Young Adult
My Rating: 4.5 / 5 stars
This review will be *SPOILER FREE* because I don't think it's fair to write a review, which people really might like to read before they read a book, and then put spoilers in it. For some reviews, I might include a spoiler divider and then write a bit more that does include spoilers. But I don't think I need to do that for this one.
This is the second book in Maggie Stiefvater's Raven Cycle series and picks up a few months after the first book, The Raven Boys, left off. It includes the same main characters as the first book, but colors in a whole lot more about their various thoughts and perspectives and backgrounds. In addition, a new character, the Gray Man, is introduced, and he is searching for the mysterious Greywaren. This character is aptly named as he is a bit morally gray, and really makes one pause to think about what it means to do "the right thing."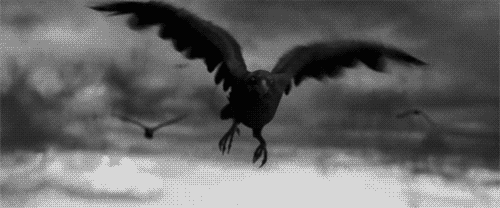 In particular, this book feels a lot more like Ronan Lynch's story, and one of the things Stiefvater seems to be a master of is taking what you *think* you know about a character and flipping that on its head. Her literary style and turn of phrase are just exquisite, with no word wasted and yet such a rich tapestry of imagery woven by her description and dialogue. Stiefvater brings together the magical (Cabeswater, the ley line, Ronan's gifts and Adam's sacrifice and the seers of 400 Fox Way) and the profane (the entire character of Joseph Kavinsky is an homage to drugs and sex and explosives, and Ronan himself is certainly no stranger to the darker side of humanity) in unexpected and often poetic ways. The book is about 400 pages long, but it feels much shorter because of this lean and light prose. I truly couldn't believe it was over when it was, even though I felt quite satisfied by the story I'd been told. Moreover, Stiefvater is funny, and she excels at writing humorous dialogue that will crack you up as you read. I'm including a few of my favorite quotes below.
The relationships between Blue and her Raven Boys–Adam and Gansey and Noah–are described in ways that shed light on the often confusing nature, especially for teenagers, of what love is, what the demands of loyalty are, and how far a person should go to protect and care for those they love. The book also continues to explore the question of whether a person can truly ever rise above or leave behind their past, especially a past that is dark (as in the case of Adam) or full of mysterious secrets (as in the case of Ronan). I do wish Stiefvater had given us a little more "meat" regarding the especially complex relationship between Adam and Ronan, but perhaps there is more of that to come in the third and fourth books of the series.
Overall, this book is incredibly well-written and continues the story of Blue and her boys in a totally satisfying manner. I highly recommend this whole series, and I find this book to be even better than the first one, probably because of the deeper look into the totally lovable main characters. If you like magic realism and young adult fiction, you should read this series!
Favorite quotes:
"In that moment, Blue was a little in love with all of them. Their magic. Their quest. Their awfulness and strangeness. Her raven boys."
"She wore a dress Ronan thought looked like a lampshade. Whatever sort of lamp it belonged on, Gansey clearly wished he had one. Ronan wasn't a fan of lamps."
"All of us have secrets in our lives. We're keepers or kept from, players or played. Secrets and cockroaches — that's what will be left at the end of it all."
"'So what you're saying is you can't explain it.'
'I did explain it.'
'No, you used nouns and verbs together in a pleasing but illogical format.'"
"Sometimes Ronan thought Adam was so used to the right way being painful that he doubted any path that didn't come with agony."
"Calla readjusted, wrapping the silk around her other thigh instead. 'Which one's he again? The pretty one?'
Blue and Gansey exchanged a look. Blue's look said, I'm so, so sorry. Gansey's said, Am I the pretty one?"
"Then Maura made something with butter and Calla made something with bacon and Blue steamed broccoli in self-defense."
"'What's that?'
'Jane!' Gansey said joyfully.
Adam said, 'It's a wizard in a box.'
'It will do your homework,' Noah added.
'And it's been dating your girlfriend,' Ronan finished.
Blue scowled. 'Are you all drunk?'"